Date of Release or Mention:
Wednesday, September 11, 2019
September: Voter Registration Month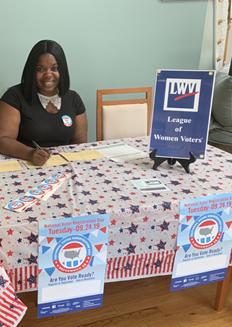 National Voter registration day is  Tuesday September 24,2019.
The League of Women Voters is committed to strengthening our community by getting voters registered on "National Voter Registration Day".  It is not just important, it is also fun. Voting is one way we express ourselves as a community, as voters and Americans, but to exercise this basic right, we must be registered to vote! That's why The League of Women Voter's Homewood -Flossmoor is a proud partner and supporter of National Voter Registration Day on Tuesday, September 24, 2019. We have met and collaborated with our League Partners in Park Forest to assure that all of our suburban schools are covered.  We are excited about the opportunity to empower our young people to "Rock the Vote" for the 2020 election on Tuesday September, 24,2019.  We are set to host voter registration in the South Suburban Schools, Senior Living Centers and Libraries. We have reached out to District 233:  Homewood - Flossmoor High School in Flossmoor; District 205: Thornwood High School in South Holland; Thornton Township High School in Harvey; Thronridge High School in Dolton; District 228: Hillcrest High School in Country Club Hills; and Marian Catholic High School in Chicago Height.  Also, we will register voters at Waterford Estates in Hazel Crest and Lansing Public Library. A BIG THANK YOU!! To all the Deputy Registrars and members that sign up to volunteer their time and effort to help make this day a success.